MAN PrimeServ is the service brand of MAN Diesel & Turbo (MDT) and is synonymous worldwide with first-class after-sales service – 24 hours a day, 365 days a year. MAN PrimeServ has a global presence with more than 115 subsidiaries in all key markets and relevant ports. The company is of course also active in China, with MDT PrimeServ China being developed into an increasingly independent organisational entity. This is due to incorporate all areas of the service division, from sales, project management, technical consultancy, inspections and repairs in the workshops to planned and, in particular, emergency services on-site. Operations are currently based at two sites in Shanghai and Peking. The company also runs a comprehensive service workshop in Changzhou in the east of the country.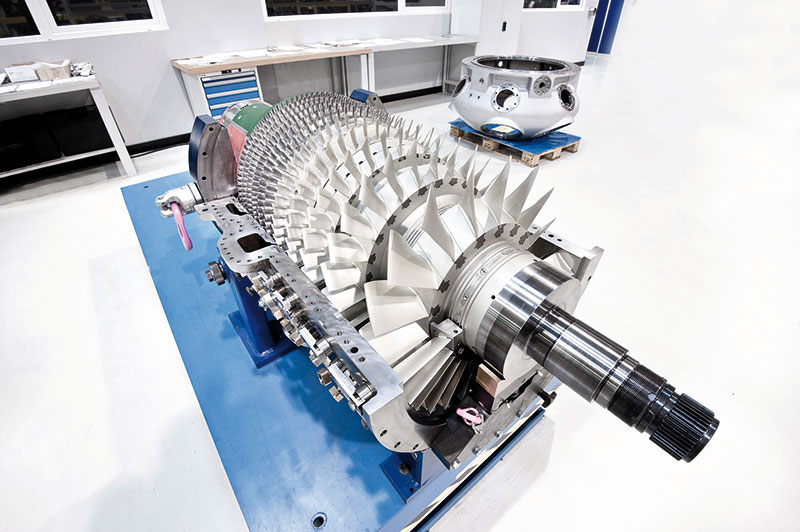 MDT PrimeServ China focuses on gas and steam turbines, axial and radial compressors, geared compressors, screw compressors and expanders. Around 80 service personnel work solely on maintaining turbo machines. Just as they do in Europe, the highly qualified service team offers an outstanding service and first-class technical support. With MDT PrimeServ, customers receive "one-stop service": an outstanding global network, technical expertise, optimised processes and a strong service mentality.
There is close cooperation with the development sites in Europe. After all, only state-of-the-art, tailor-made solutions are supplied by MDT in China too. Systematic use of original spare parts also contributes to a long service life and efficient operation of the systems. The specialists from MDT PrimeServ China carry out inspections and repairs. They modernise, relocate and expand existing systems. And for emergency cases they are on call around the clock.
Condition-based monitoring
For operators of turbo machines in China, a service package is particularly important when it comes to overhauling complete systems. With "condition-based monitoring", MDT PrimeServ China plans the machine overhaul in collaboration with you. This also involves ongoing monitoring of certain operational parameters, such as the oil and steam quality, vibration behaviour using vibration analysis, and bearing vibrations and temperatures using online monitoring.
Regular diagnostic assessments, including endoscopies using a borescope, are also conducted on-site. All of this helps customers to optimise the availability of their systems and save money.
Hot on the trail of the latest trends with oil analyses
Up to 30,000 litres of turbine oil of ISO-VG 46 are used in a standard system, often over several years. However, only oils that comply with the specifications stipulated by MDT's own laboratory in Oberhausen can be used for this. The lifetime of the turbine oil is ultimately not only dependent on the choice of oil, but on oil monitoring, servicing and cleaning. Turbine oils must therefore be monitored carefully. For around two years, OELCHECK lubricant analyses have been the first choice for routine analyses in China.
The specific range of analyses for the turbine oils was decided upon jointly by the MDT laboratory, the technical consultants in Oberhausen and OELCHECK. As well as monitoring the antioxidants, contaminants are also detected at an early stage. This is important because even slight changes can adversely affect oil ageing, demulsibility capacity, wear resistance and foaming characteristics of turbine oils. Provided that the operating conditions do not change significantly, the oil analyses also provide important trend data which can be used to predict the remaining lifetime of the oil and to plan necessary oil maintenance measures in good time. Ideally the turbine oils should be analysed regularly in an OELCHECK laboratory at intervals of 3 to 6 months, with additional feedback from MDT PrimeServ. In China, our laboratory in Guangzhou is responsible for this – another advantage for MDT PrimeServ China and its customers!
Scroll To Top