Optimize your data entry of the samples with the new OELCHECK app!
Sample data entry 4.0
The OELCHECK app is free of charge and offers our customers the easiest way to enter their sample data. Customer-specific information and indications about the individual machines are stored once and then available at any time.
The customers only have to add the data of the current oil sample.In addition to entering sample data, the new OELCHECK 4.0 app also offers the option of calling up laboratory reports, sending photos of the sample and capturing data in offline mode and transmitting it to OELCHECK later.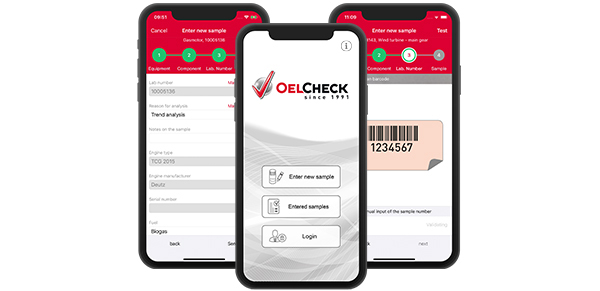 Easy. Fast. Modern. Efficient.
Personal Login
Offline mode
Call up laboratory reports
Sample photos
You do not have a QR code yet?
We would be happy to assist you with the implementation:
Call us on Phone +49 (0) 8034-9047-250 or send us an Email: sales(at)oelcheck.de