Q&A Questions and answers
Oil samples from abroad
We have commissioned OELCHECK for many years with the analysis of lubricant samples from our facilities in Germany. Our representatives currently use laboratories based in the respective country for lubricants that are used abroad. Unfortunately, we are neither satisfied with the quality (large deviations for trend analyses) nor the scope of the analysis. An option to enter the determined values in our own database in Germany is also not envisaged, and a well-founded diagnosis of the values is not provided.
Can OELCHECK in Germany examine samples from other countries?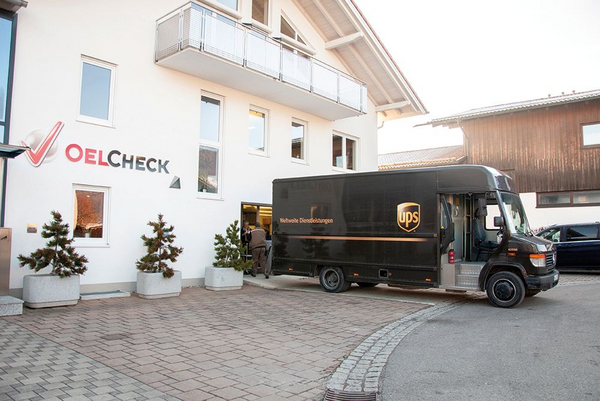 OELCHECK answers:
Of course. OELCHECK in Germany can analyse and examine samples from all over the world. Many of our customers who use their machines worldwide send their samples directly to us from abroad.
All determined values are collected in a joint customer database. Moreover, you can also receive a notification, e.g. during the warranty time, to inform you whether the lubricant recommended by the manufacturer is being used.
The OELCHECK laboratory regularly analyses significantly more values than nearly all other lubricant analysis laboratories, which is why we are able to detect more correlations and causes in case of unexpected results. Other laboratories often lack suitable threshold values in order to provide meaningful comments, and comments often only contain simple statements written by chemists and not – as at OELCHECK – by tribologists or mechanical engineers. Thus, competitors will issue short comments such as: "The iron value has risen." Well, you do not need to be an expert to see that...
An OELCHECK tribologist, on the other hand, will state that the iron value has risen due to corrosion as water, e.g. due to a pressure washer, has intruded into the lubrication system. He recognises this because, among other things, hardly any magnetisable iron (mechanical abrasion) is present and the presence of sodium and potassium additionally suggest "hard" tap water. You can recognise errors and initiate corrective measures or additional controls based on comments individually created for each sample.
In contrast to the laboratories of most lubricant manufacturers or other competitors abroad, high German and international standards such as ISO 17025 are consistently applied within our company. Analyses are performed quickly and accurately by experienced and trained laboratory employees who exclusively examine lubricating oils and greases, coolants and insulating oils
Also with regard to samples shipped to us from abroad, you can rely on all-inclusive customary OELCHECK services such as the 24-hour service or mailing of laboratory reports via e-mail. Comments can be directly translated online – 15 language are currently supported.
How does it work?
The procedure is essentially the same as for samples within Germany: Order the all-inclusive analysis kit, take the sample and send it to us by UPS. The easiest way is to contact our "Service & Sales" department (sales@oelcheck.de, Tel. +49 8034 9047-250) prior to submitting your first order from abroad. You will receive an individual offer from us as well as the necessary documentation and papers that are required for smooth and quick shipping to Germany.
In China, Taiwan or Russia (including CIS countries), our exclusive agents handle the entire process. Our agents on-site are experts in the lubrication industry and are familiar with technical terms, legal provisions and customers. In addition to consultation and the sale of all-inclusive analysis kits, they can also translate sample consignment notes and handle the sample entry. Thus, our German tribologists are able to answer questions that may be in Chinese for example. Exclusive agents provide on-site consultation and organise the quickest possible return shipping of samples (e.g. under five days from China). Thus, the OELCHECK laboratory report from Germany often arrives quicker than locally analysed samples.
Do you want to become an exclusive agent?
More and more internationally operating customers rely on the independent expertise provided by our laboratory and tribologists, which is why we are expanding our agent network. Please contact us if you wish to expand your sales portfolio with the sale of all-inclusive OELCHECK analysis kits.