Summaries and tables
New lubricant, improved performance?
Changing your lubricants as easily as changing your shirts – that would be a fine thing! We would buy oils and greases based purely on price, simple storage and immediate availability and it would all run like clockwork. But unfortunately the necessary operating materials are not always that easy to change. Even if two products fulfil a certain specification, changing the lubricating oil or grease type can give rise to nasty surprises. Some lubricants with which positive experiences were made in Europe also bear the same designation in other countries. But their content and their effects on the lubricated components can vary greatly depending on the place of production. It's no accident that the topic of "changing brands" is once more a hot topic for maintainers and international lubricant experts on LinkedIn and other online forums. Using a structured procedure and compatibility analyses could mean that the risks that may arise when changing to another product could be almost eliminated.
Better is the enemy of good! And we should constantly try to continually improve anything concerning machine and system lubrication. Changing the lubricant or oil brand can have many advantages, but can also carry some risks. When changing brands never forget that lubricant is an essential part of a machine. This means that such a change is always disruptive to the machine. Prudence is the better part of valour, and you should have good reasons for changing lubricants, such as:
insufficient protection against wear with the previous product,
reducing suppliers and lubricant types (storage, mix-up),
an essential reduction in costs due to lower purchase prices,
longer oil services lives or relubrication intervals,
saving energy through improved efficiency (synthetic oils, multigrade oils),
globally committing to one lubricant manufacturer for all business units,
the previous product is not longer being manufactured.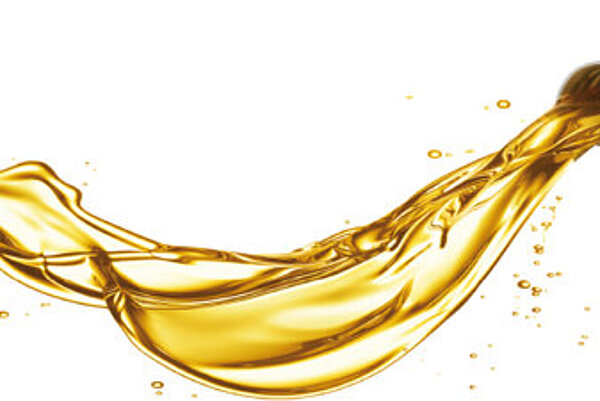 You must count on it
If, for example, the previous product has similar additives (concentration of additive elements, IR spectrum) and the viscosity level hardly differs, the products can usually be changed without any big surprises. Also, when a supplier or laboratory has carried out intensive tests into the harmlessness of mixing products and there is corresponding data that is confirmed there should be no problems when changing lubricant brands.
In all other cases, you should however be aware of all possible undesirable side effects:
If the new lubricant is miscible but incompatible with the old one, even if they are the same viscosity, mixing them can mean that reliable lubrication is no longer guaranteed when changing lubricants.
Consequential damage, such as wear, cavitation, impaired performance against water, early oxidation or foaming must be expected due to differing additive concentrations or altered surface tensions.
Before the oil is changed, the system is contaminated with lacquer-like and/or sludgy deposit. The dispersant additive of the new product works differently. Deposits increasingly become detached and contaminate the filters much more than previously calculated.
The new lubricant reacts differently with seals, inner coats, galvanised or nickel-plated surface coatings or filter materials.
Additive combinations can have a corrosive effect and attack metal alloys containing tin, copper or lead.
The new product is less suitable for use under specific operating and/or environmental conditions, such as extreme temperatures, impurities, chemicals, process gasses, cleaning agents, etc.
The new oil contains a lower concentration of HD or EP additives, has different viscosity index improvers or a different base oil composition and therefore does not have the same performance capacity as its predecessor.
It can become really tricky when oils are mixed together that are miscible and designed for the same use but are not completely compatible with each other, such as:
zinc-free and zincic hydraulic or circulating oils,
oils with detergent and non-detergent properties (HLP and/or HLPD),
glycol-based synthetic oils with other synthetic oils (PG and PAO).
Nevertheless, incompatible or not, risks can only be avoided through structured procedures and any analyses that indicate probable incompatibly in the first place.
Damit müssen Sie rechnen
Der Weg zur richtigen Entscheidung Unser rechts dargestellter Entscheidungspfad lässt Sie die gefährlichen Klippen sicher umschiffen. Wichtig ist nur, dass Sie ihn konsequent befolgen!
An Hilfsmitteln steht Ihnen neben den Daten­blättern und Angaben der Schmierstoff-Lieferanten der OELCHECK Beratungs-Service, der durch Analysenergebnisse unterstützt wird, zur Verfügung.
Beim Vergleich von Lieferantenangaben sollten Sie folgende Kennwerte beachten:
Für Öle: Viskosität und Viskositätsindex, Additivelemente, Flammpunkt, Dichte, IR-Vergleich, Grundölunterschiede.
Für Fette: Konsistenzklasse, Elementgehalt, IR-Vergleich, Ausbluteverhalten, Temperatureinsatzbereich, Grundöl-/Verdickertypen sowie etwaige Feststoffe.
Vergleichen Sie auch, sofern verfügbar.
Spezifikationen und Normen wie: DIN, ISO, ASTM bzw. für Automotiveprodukte ACEA und API
die Ergebnisse mechanischer Prüfverfahren wie FZG-Test, VKA, Brugger, FE8, Schaumtest
Freigaben von Motoren-, Anlagen- oder Komponentenherstellern.
Im OELCHECK-Labor stehen neben den genannten Analyseverfahren weitere Möglichkeiten zur Verfügung, einzelne Schmierstoffe sowie deren Vermischungen zu überprüfen. Es können Werte ermittelt werden, die über die Herstellerangaben der Datenblätter hinausgehen. Dazu gehören z.B. der Gehalt der Additivelemente und die Zusammensetzung des Additivpackages, die Filtrierbarkeit, die Oxidationsstabilität, die Vermeidung von Korrosion sowie das Verhalten gegenüber Wasser und bei Lufteintrag. Oft muss auch das Verhalten gegenüber Dichtungsmaterialien und Oberflächenbeschichtungen abgeschätzt werden. Ein Viskositäts-Temperatur-Profil zeigt, ob der Schmierstoff für extrem hohe oder niedrige Temperaturen geeignet ist. Aus den vorliegenden Daten können selbst individuelle Reaktionen mit Ammoniak oder anderen Kühlmitteln, Kraftstoffen, Metallbearbeitungsölen, Schwefelwasserstoff oder weiteren aggressiven Stoffen abgeschätzt werden.
Richtig spannend wird es oft, wenn eine Mischung von altem und neuem Schmierstoff beurteilt werden soll. Wir empfehlen, dass der Kunde die einfach zu handhabenden Mischungen selbst durchführt. Danach sollten insgesamt fünf Proben, je eine der beiden Frischöle und drei Mischungen (im Verhältnis ca. 50:50, 95:5 und 5:95) im Analysenset 2 an das Labor mit dem Hinweis "Verträglichkeitsanalyse" gesandt werden. Im Labor werden die Öle und Mischungen bei 60°C über vier Stunden temperiert. So können Basisöle und Additive in den Mischungen gegebenenfalls miteinander reagieren. Wenn danach Eintrübungen, starke Farbveränderungen oder gar Ablagerungen und Verflockungen festzustellen sind, werden die Untersuchungen abgebrochen, mit dem Hinweis, dass die Produkte definitiv unverträglich sind. Nur wenn optisch keine großen Veränderungen erkennbar sind, werden Frischöle und Gemische weiter untersucht.
Wurden auf der Basis von Herstellerangaben oder durch das Labor alle Kriterien der neuen Ölsorte begutachtet und zusammenfassend festgestellt, dass keine Beeinträchtigungen für Dichtungen und andere Materialien der Anlage bestehen, steht der nächste Schritt an. Der Ölwechsel verbunden mit der Umstellung des Öls und eine etwaige Spülung bzw. Reinigung des Systems.
Sind altes und neues Produkt sehr ähnlich, kann die Umstellung fließend geschehen. Schon vor dem eigentlichen Ölwechsel können Fehlmengen mit dem neuen Produkt ergänzt werden.
Weisen beide Typen größere Abweichungen auf, dann sollten Sie den Zustand der Anlage noch mit einbeziehen. Ist sie sehr anspruchsvoll, alt oder sind bereits mehrfach Störungen aufgetreten, müssen Sie auf jeden Fall die alte Füllung komplett ablassen. Dabei ist zu beachten, dass selbst bei einem gründlichen Ölwechsel mit Ablassen eines betriebswarmen Öls meist noch mehr als 5% des alten Öls im System an den Gehäusewänden, in den Lagern und Dichtungsräumen, in Schmierbohrungen und Leitungen verbleiben.
Sind die beiden Öltypen miteinander unverträglich, dann ist vor der Umstellung eine Spülung zwingend erforderlich. Eventuell müssen zur Entfernung von schlamm- und lackartigen Ablagerungen oder von Restöl auch noch zusätzliche Reinigungsmaßnahmen durchgeführt werden. Denken Sie daran: auch in Kühlern, Heizaggregaten, Schläuchen, Leitungen, Anschlüssen und Filtern können sich Restmengen und Verunreinigungen verbergen!
Wenn eine Spülung vor der Befüllung mit der neuen Ölsorte erforderlich ist, sollte vorzugsweise die gleiche Ölsorte aber in einer niedrigeren Viskositätslage (mindestens zwei ISO-VG-Klassen tiefer), benutzt werden. Zusätzliche Spülleistung erreichen Sie durch Erwärmung und Umpumpen mit hoher Geschwindigkeit. Verwenden Sie keine zusätzliche Detergentien zur Unterstützung der Reinigungswirkung oder nur, wenn auch das Weiterbetriebsöl solche enthält.
Hydrodynamische Reinigung einer Rohrleitung durch einen ECOL-Mitarbeiter
Reicht das Spülen mit dem Betriebsöl oder dessen dünnerem Vertreter nicht aus, können spezielle chemische Reinigungsadditive zum Einsatz kommen. Sie enthalten z.B. Kalzium-Sulfonat, das üblicherweise in Mineralöl gelöst ist. Nachteilig an dieser Methode ist, dass nach der Spülung das Reinigungsöl, das mit allen Schmierstoffen unverträglich ist, in einer weiteren Spülung komplett aus dem System entfernt werden muss. Als Alternative zu chemischen Reinigern kann bei großen und heiklen Ölumlaufanlagen auch eine hydrodynamische Reinigung erfolgen. Das Verfahren basiert auf dem Einsatz von Wasser, Luft sowie Spülöl. Durchgeführt wird es z.B. von ECOL, deren Mitarbeiter international im Einsatz und auf dieses Verfahren spezialisiert sind.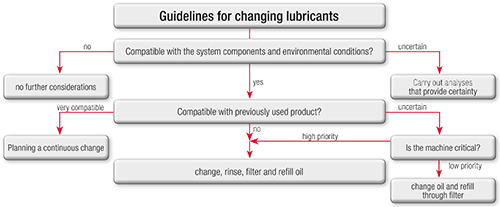 The path to the right decision
Our decision path shown above helps you to safely circumnavigate the dangerous cliffs. The important thing is that you follow it to the letter! Alongside the data sheets and information from the lubricant suppliers, you have access to the OELCHECK Consultation Service that is supported by the analysis results. When comparing supplier specifications you should consider the following characteristic values: For oils: viscosity and viscosity index, additive elements, flash point, density, IR comparison and base oil differences. For greases: consistency class, element content, IR comparison, bleeding behaviour, temperature operating range, base oil/thickener types, as well as any solids. Also compare if available. Specifications and standards such as: DIN, ISO ASTM and, for automotive products, ACEA and API the results of mechanical testing procedures, such as FZG test, VKA (Vier-Kugel-Apparat [four ball test]), Brugger, FE8, foam testing Approvals from engine, system and component manufacturers. In the OELCHECK laboratory, alongside the stated analysis procedures, there are other options for checking individual lubricants and their mixtures. Values exceeding the manufacturer's specifications from the data sheets can be determined. This includes, for example, the content of the additive elements and the composition of the additive packages, the filterability, the oxidation stability, avoiding corrosion and performance against water and if air gets into. Performance against sealing materials and surface coating must also often be estimated. A viscosity temperature profile shows whether the lubricant is suitable for use in extremely high or low temperatures. Even individual reactions with ammonia or other cooling agents, fuels, metal working oils, hydrogen sulphide or other aggressive substances can be estimated from the existing data. It often gets very exciting when a mixture of an old and new lubricant should be evaluated. We recommend that customers carry out mixtures that are easy-to-handle themselves. Then a total of five samples, one from the two fresh oils and three mixtures (at a ratio of approx. 50:50, 95:5 and 5:95), should be sent to the laboratory in the analysis set 2 with the note "Compatibility Analysis". The oils and mixtures are tempered over four hours at 60°C in the laboratory. This allows the base oils and additives in the mixtures to react together if applicable. If afterwards there is cloudiness, severe changes in colour or even deposits and peeling, the experiments are abandoned noting that the products are definitely incompatible. Fresh oils and mixtures are only investigated further if there are no major visual changes. The next step is carried out if all criteria of the new oil type have been examined by experts based on the manufacturer's specifications or by the laboratory and it has been ascertained that the seals and other system materials will not be impaired. The oil change associated with changing the oil and possibly rinsing and cleaning the system. If the old and new product is very similar the oil can be changed fluently. Shortages can be supplemented with the new product even before the oil is actually changed. If both types show greater differences, then you should also factor in the condition of the system. If it is very challenging, old or if multiple malfunctions have already occurred, the old oil must be completely drained. When doing so attention should be paid to the fact that generally more than 5% of the old oil in the system remains on the casing walls, in the bearings and sealing spaces, in the lubricating holes and the lines even during a thorough oil change that includes draining the oil at operating temperature. If both oil types are incompatible with each other, the equipment must be rinsed before the oil is changed. Additional cleaning measures may also need to be carried out to remove sludgy and lacquer-like deposits and residual oil. Remember, residue and impurities can also hide in coolers, heating aggregates, tubing, lines, connections and filters! If the equipment needs to be rinsed before it is filled with the new oil type, the same oil type should preferably be used at a lower viscosity level (at least two ISO VG classes lower). Additional rinsing output can be achieved through warming and circulating at high speed. Do not use additional detergents to boost the cleaning effect or only use them if the operating oil still being used also contains it. Hydrodynamic cleaning of a pipeline by an ECOL employee If rinsing with the operating oil or its thinner agent is not sufficient, special chemical cleaning additives can be used. These contain, for example, calcium sulphonate, which is usually dissolved in mineral oil. A disadvantage of this method is that after rinsing, the cleaning oil that is incompatible with all lubricants must be completely removed from the system with another rinse. Hydrodynamic cleaning can be carried out as an alternative to chemical cleaning for large or tricky oil circulation systems. The procedure is based on the application of water, air and flushing oil. This is carried out, for example, by ECOL, whose employees are internationally specialised in its application and this procedure. www.ecol.com.pl
Oils – drain, rinse, change
Unexpected situations when changing oil types

Negative reactions

Particularly frequent with

Possible after-effects

Precautionary measures

Individual elements of the lubricant separate

Older machines:

Changing from mineral oil to lubricants containing ester, detergents, dispersants and other polar additives

Internal and external leakages, insufficient lubrication as possible result

Rinse the equipment and remedy all leakages before the machine resumes normal operation.

Seals less efficient (e.g. change to structure and/or dimensions, deformation under pressure, material destruction)

Older machines: Changing to a synthetic lubricant that has a significantly different aromatics content compared to the previous product

Internal and external leakages, insufficient lubrication as possible result

Have the new lubricant examined for compatibility with the seals in the system. Repair/replace old, worn seals.

Old deposits and sludge are loosened by new oil

Older machines: Changing from mineral oil to lubricants containing ester, detergents, dispersants and other polar additives

Decreased oil supply causes insufficient lubrication and accelerates wear

Thoroughly clean the whole system by rinsing under high pressure before refilling. Possibly use chemical cleaning additives. Possibly hydrodynamic cleaning by specialist company for large systems.

Lubricant is insufficiently effective due to incompatible additives of base oils

Mixing incompatible lubricants together, their acids/bases react with
one another.

Sludge and other insoluble deposits form
Loss of surface tension leads to chronic problems through air getting in, foam formation and/or the formation of oil/water emulsions
Deficient oxidation stability
Corrosion
Inadequate lubricating film stability

Carefully drain the old oil and rinse in order to remove all residue of the old lubricant.