Test methods and equipment in our OELCHECK laboratory
Supplementary devices, maximum safety of operation
Year of publication: 2010
Reliable and rapid: this is what OELCHECK customers think of our analysis service. In order that we may continue to cope with the constantly increasing number of samples in the future, we have made provisions. The laboratory is equipped correspondingly if a device genuinely fails for several hours.
We have invested heavily in EDP, installed supplementary devices and in part, significantly optimised existing ones. Above all, this relates to: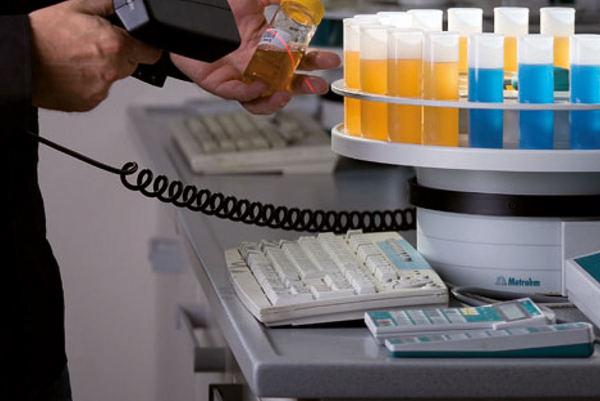 FT-IR-Spectroscopy - this forms part of the standard for all analysis sets. With it, impurities are detected and mixing recognised, with the condition of the oil determined with regard to oxidation, nitration and sulphation. In addition to the three available devices, a new FT-IR device was installed. With the NIR, oil samples may also be investigated in the near infrared range.
The two innovative KF Titrators with which the specimens are tested for their water content, are now equipped with automatic sample changers. In order to determine the ON position, a third titrator is integrated into the network. With its optimised software, it offers the possibility of titrating two samples in parallel with two autosamplers at the same time.
The two ICP devices for atomic emission spectroscopy now work significantly faster due to a Cetac ASXPress Plus autosampler, which cleans the sample introduction system as early as the measurement stage.
The following explanations show how systematically OELCHECK proceeds during the introduction of optimised techniques. We usually enter new territory here with the device supplier, since such optimisations cannot be bought off the peg. They have nevertheless guaranteed that to date, no increase in prices have been required since the introduction of the euro in 2002. In used oil analysis, atomic emission spectroscopy (AES) is the most widely used procedure. For this, OELCHECK deploys two Perkin Elmer ICP devices. These simultaneously determine 29 elements (additives, wear, impurities) with a high degree of precision within a broad concentration range for oil. In addition, through them, the monitoring of additive reduction can be carried out more precisely. The actual measuring time is brief. However, before every measurement, the entire system must be pre-rinsed with the oil of the following specimen and afterwards flushed with solvent. Only in this way have mixtures of samples and hence measuring errors been excluded. The time required for cleaning and rinsing was greater than for the measurement. The fitting of the ICP devices with the new ASXPress Plus provided a remedy. By virtue of a supplementary specimen loop and a 6-way valve in the sample feed, the execution of the three steps, pre-rinsing, measurement, rinsing is now overlapping. In this way, the processing time for a sample at an ICP is almost halved with the same precision. In addition, there are some positive aspects for the environment: by omitting the pre-rinsing, a smaller sample volume is required. And by virtue of the shortened analysis times, the energy and argon consumption of the ICP are considerably reduced.