Trends, Tips & Tricks
Storage and handling of lubricants
Year of publication: 2007
Not a day goes by when OELCHECK's experienced tribologists do not advise an oil change due to mixed lubricants. Frequently, errors in the storage and handling of lubricants are the cause of incorrect viscosity or incompatible additives. Proper handling of oils and greases plays an important role in almost every operation. With a consistent concept from delivery to disposal, not only can working time and costs be reduced, but unnecessary oil changes or difficulties with authorities can also be avoided. A supply concept must take into account availability, maintenance of the service value of the lubricants, and the costs of storage and handling. Environmental and safety aspects as well as the health of employees must also not be neglected. In the following article, we show what you should consider when storing and handling lubricants and give you lots of valuable tips.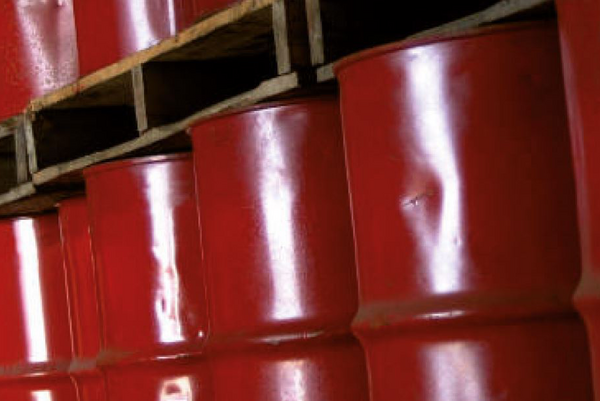 It starts with the goods receipt
Regardless of whether you receive your lubricants in tank trucks or 1,000-liter containers, in 200-liter barrels or in small containers down to spray cans, check the goods very carefully. To make sure you don't miss anything, use the following checklist:
matching the order, delivery bill and the goods actually delivered
are the quantity and the container correct?
the relatively long product names often differ by only one letter. be sure to compare the details of the product name and the viscosity specifications.
are the containers undamaged, clean and sealed?
pay particular attention to the external appearance of reprocessed barrels.
note the batch numbers, which contain information about the production batch and the filling date in coded form.
take reserve samples when delivered by tanker.
1,000-liter containers or even 200-liter barrels are often used multiple times. This can possibly affect the purity of the delivered product. Fresh oils should have a purity class of 19/16/13 to 22/19/16 (according to DIN 51524). Most manufacturers of hydraulic and other systems specify a cleanliness class of 19/17/14 or better. The most frequent unpleasant discussions between oil suppliers and customers are due to improper or misinterpreted cleanliness classes. Avoid any unnecessary risk with an Optical Particle Analysis (OPA) from OELCHECK. It determines the cleanliness class and distinguishes between air bubbles, water droplets, soft additive particles and dirt.
Storage 101
The storage room must be dry and clean. But this alone is not enough. It is also important that the temperature is as uniform as possible and that humidity is not too high. Extremely high temperatures should always be avoided because lubricants can age above 60 °C during storage. Temperature fluctuations cause oil to change its volume. An exchange with the ambient air takes place.
Please note: At a temperature difference of 50 °C, a 200 liter barrel of oil "breathes" 7 liters of air.
If condensation forms as a result, the oil is unnecessarily stressed. Many of the synthetic oils or rapidly biodegradable lubricants are also hygroscopic. If they are not stored completely sealed in a room with high humidity, they absorb the moist air from the environment. Once in the container, the moisture accumulates on additives. These separate or the lubricants age more quickly. If systems are filled with oil that already contains too much water, there is a risk of damage due to corrosion or cavitation.
Please note: If a fresh oil looks cloudy or milky, water is often the cause. In such cases, the water is not dissolved in the oil, but the water droplets are suspended in the oil as finely distributed particles, usually 5μ to 25μ in size. The degree of saturation of water in the oil depends on the oil type, temperature, viscosity, air pressure and other factors. Therefore, you should not rely on sensors that determine a relative humidity in the oil for water determination. If the oil is turbid, it should be tested in the laboratory with regard to water or mixing with other media.
Outdoor storage
Outdoor storage should be avoided if possible, as rain, condensation and, for some products, frost can damage the products. However, if outdoor storage is unavoidable, do not store barrels in the blazing sun. Protect them from rain and snow. Barrels should never be stored standing up, but always lying down with the 2½" bunghole (large cap) facing down. This is still the best way to prevent rainwater standing on the cap from entering the barrel.
This will reduce the drawing in of ambient air and the formation of condensation during temperature fluctuations.
Absolute care should be taken with most water-miscible coolants and all fluids containing water. They are extremely sensitive to frost.
Lubricants storage life
Exact information on the shelf life of individual lubricants can be provided by your supplier. However, very few suppliers print a best-before date on the label. Ask your supplier to decipher the filling date, which provides information about the production date, e.g. in the form of a combination of letters and numbers. Most products have a minimum shelf life of about three years if stored properly.
However, the effect of some additives contained in the oil, such as corrosion protection inhibitors, can wear off after just 6 months. Cooling lubricants containing antibacterial agents or formwork oils should be used within 6 to 12 months if possible. Some active ingredients, such as silicone-containing defoamer additives, tend to segregate during prolonged storage. Such additives may settle or frame. To ensure that they are homogeneously dissolved in the oil again before removal, the containers should be moved or rolled before use.
In order to avoid overmixing of the products, the removal of lubricants according to the FiFo method (first in - first out) has proven successful in many cases. However, if you have any doubts as to whether the product is still in order, an oil analysis can provide quick and inexpensive information on its suitability for use.
.
Opened containers
Laws and regulations
When setting up and operating a lubricant storage facility, the following laws and regulations usually come into play:
WHG = Wasserhaushaltsgesetz (Water Resources Law)
VAwS = Verordnung über Anlagen zum Umgang mit wassergefährdenden Stoffen (Ordinance on Installations for Handling Substances Hazardous to Water)
GefStoffV = Gefahrstoffverordnung (Ordinance on Hazardous Substances)
VbF = Verordnung brennbarer Flüssigkeiten (Ordinance on Flammable Liquids
BetrSichV = Betriebssicherheitsverordnung Unfallverhütungsvorschrift BGV (Ordinance on Industrial Safety and Health BGV accident prevention regulation)
B1KrW/AfG = Kreislaufwirtschafts- und Abfallgesetz ( Closed Substance Cycle Waste Management Act)
AöV = Altölverordnung (Ordinance on Waste Oils)
The majority of lubricants have a flash point > 100 °C and are therefore not assigned to any hazard class according to the VbF (Ordinance on Flammable Liquids). Special precautions must be taken when storing fuels, combustibles, solvents and/or waste oil of unknown origin. The VbF distinguishes between the following classes:
A I - flash point < 21 °C
A II - flash point 21-55 °C
A III - flash point 55-100 °C.
The Water Resources Act (WHG) gives the highest priority to the protection of our waters. The classification into water hazard classes according to VwVwS provides indications for measures to be taken after damage has occurred and describes safety precautions for the protection of waters when storing, filling, handling and transporting substances hazardous to water. The water hazard classes (WGK) 1 to 3 are distinguished:
WGK 1: slightly hazardous to water
WGK 2: hazardous to water
WGK 3: highly hazardous to water
Almost all lubricants and operating fluids correspond to a WGK 1 or 2, heating oil and diesel to WGK 2, gasoline and waste oils to WGK 3. The specific water hazard class of a product is indicated in its safety data sheet.
Depending on the quantity and water hazard class, structural measures are necessary
For the storage of small containers up to 20 l capacity, an oil-resistant floor with roofing or a closed room is always required. For 60 l or 200 l barrels and all containers with a content of more than 20 l, a second safety level is required. A drip pan must be provided and tanks may only be installed in a double-walled design or in a special containment room. If tanks are poorly visible, a leak detection device must be installed.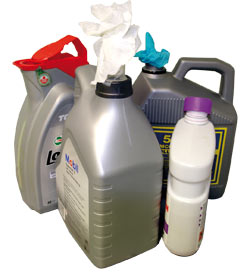 Safe use in operation
For professional organization of the lubricant storage, order and documentation are indispensable. A lubrication schedule that takes into account all lubrication points in the plant provides information on the required lubricants, relubrication intervals and quantities. You should always keep in mind that the more types of lubricants are used, the more difficult handling becomes and the greater the risk of mixing. As part of our consulting service, OELCHECK tribologists will be happy to assist you in revising your lubrication schedules.
Uniform and clear labeling of all containers reduces the risk of confusion and mixing. The labels must be oil-resistant and possibly weather-resistant, and they must be legible for a long time.
Properly equipped
A wide range of equipment is available for transport from the warehouse to the lubrication point and for filling. Base your purchase on the following criteria:
what quantities need to be moved?
how often will the equipment be needed?
what distances have to be covered?
are type approvals available for larger equipment?
does the manufacturer offer a spare parts and repair service?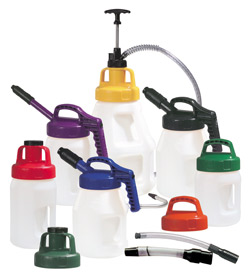 No unnecessary risks
However, a perfect oil storage and selected equipment alone are not enough. A number of risks lurk during refilling and oil changes.
The cleanliness of all equipment used for internal transport is particularly important.
It is best to use a set of refill containers for each type of oil. If, for example, a transport vessel has previously been used for another product, make sure that there are no more residues in it or rinse the vessel with the new type.
Never use equipment for fresh oils that is used when draining, collecting and transporting waste oil.
Do not use galvanized containers to transport the oil. Some additives react with zinc. This can cause metal soaps to form, which can lead to trouble later in the machine.
As a general rule, oil should always pass through a filter before being filled. This is the only way to effectively prevent contamination originating from the container or transport. If oil has been stored in relatively high humidity, it is advisable to use a special filter that can retain water.
Our advice:
Clear coding with colors and/or symbols from the barrel to the lubricator, the filling point to disposal ensures maximum safety.
Just in case
In the event of a leak, sufficient oil binding agent must be available. It absorbs the spilled oil and does not release it. Various basic substances can be used as binders. Commonly used are, for example: Perlite IIR, Bark IIR, Wood flour I/IIR, Polypropylene I/IISF, Peat I/IIR or Alumina IIIR. However, not all are suitable for use in industrial operations.
Waste oil storage and disposal
Waste oils occupy a special position in lubricant management. The term "waste oil" covers all liquid or semi-liquid substances produced from mineral oil. Waste oil can cause great damage if it gets into nature and the environment. The Recycling and Waste Management Act makes the recycling of raw materials a legal requirement. To ensure this, each lubricant type has its own waste code number, which can be found under item 14 of the safety data sheet. Only those waste oils whose numbers are identical may be stored and disposed of together. According to the administrative regulation for substances hazardous to water, waste oils are classified with a water hazard class WGK 3. They are also assigned to hazard class A I. Their storage and disposal is subject to the Waste Oil Ordinance and the VAwS (Ordinance on Installations for Handling Substances Hazardous to Water).
Our advice:
The storage and handling of lubricants is a complex subject. They are covered in particular detail in the seminar "Optimal Lubricant Management" by our partners at OilDoc.
There are quite a number of well-known suppliers of workshop equipment and storage equipment. But only a few are specialized in the requirements of industrial companies. Here is a small selection of different suppliers:
www.flaco.de = Industrial oil filling equipment
www.lincolnindustrial.de = Automatic lubrication systems, fluid handling, workshop systems
www.oil-safe.de = Professional filling systems
www.hallbauer-viernheim.de = Workshop equipment
www.pressol.de = Workshop equipment