This is OELCHECK!
OELCHECK is the leading laboratory for lubricant and operating fluid analyses in Europe. Our local and international customers include numerous renowned companies. Our laboratories, like our other workspaces, are kitted out with state-of-the-art equipment.
Since the company was founded in 1991, it has undergone constant growth, as have our employee numbers. Currently, OELCHECK has over 90 satisfied employees from nine countries. 20% of them have been with us for more than 10 years. OELCHECK is a family business.
OELCHECK as an employer
As an employer, OELCHECK offers the following:
in-house cafeteria
company gym with the latest equipment and classes
many opportunities for professional development
unforgettable company events
accident insurance for employees
With us, you can work where other people go on holiday. In Brannenburg, it is not only the Alps that seem close enough to touch. You can also quickly take in nearby mountains, hit the slopes in Austria, go shopping in Rosenheim or Munich, or enjoy a weekend in Italy. The nearby lake Chiemsee is a great place to swim and relax.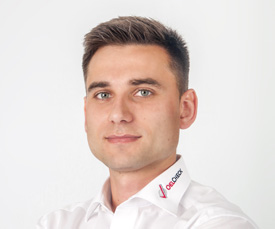 "For over 10 years, I have been working at OELCHECK and am very proud to be part of the company. In 2005, I came to the lab team as a chemical and technical assistant and was immediately enthralled by the concept, lab, environment and exceptionally good working atmosphere, and still am. After a relatively short time, I had the opportunity to become head of our lab team. Two years ago, I was promoted to head of laboratory. During my career at OELCHECK, I was able to gain several additional qualifications, such as LLA I and II, MLA II and CLS. I found my dream company at OELCHECK!"


Max Schuldeis (MLA II + CLS)
Head of Laboratory
OELCHECK: A dream company
For the tenth year in a row, OELCHECK was awarded the TRAUMFIRMA (dream company) award in 2019. This award is given to companies which are distinguished by a particularly employee-friendly and appreciative corporate culture. It is based on a totally anonymous and therefore relevant employee survey. Some of the criteria in the survey are communication and cooperation, workplace situation, praise and recognition, stress, payment, professional development and regulation of working hours.