Sending lubricant and operating fluid samples to OELCHECK
In each all-inclusive analysis kit, you will find a sample bottle along with an addressed envelope, a Sample Information Form and a UPS return delivery form for sending liquid or solid samples.
The envelope is made of oil-tight, recyclable plastic. The self-adhesive seal makes the envelope leakproof. The Sample Information Form is placed in the external window pocket to ensure that it is not soiled by the sample bottle or potential oil stains.
All customers in Germany receive a UPS return delivery form as part of the all-inclusive analysis kit. This enables free delivery of samples to OELCHECK within Germany.
The bottom of the Sample Information Form which is detached on the perforated line is your sample reference. Please note your UPS Tracking # on the reverse. The machine designation and components may be given on the front. On the sample reference, you will also find your lab number. The UPS number you noted down and the lab number can help you track your samples and their status more easily.
Stick the UPS return delivery form above the OELCHECK address on the front of the envelope.
CAUTION: Please do not stick anything over the field "Sample from" or the window pocket containing the Sample Information Form.
Once your delivery is ready, register it to be picked up by UPS, stating the UPS Tracking #, or send it from a UPS drop-off point in Germany.
Contact OELCHECK (Tel. +49 8034-9047-250) if you would like further information on overseas UPS sample delivery prices.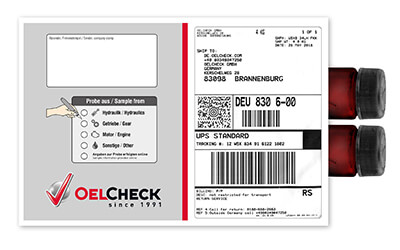 Protecting the environment is important to us. This is why all of our equipment is recyclable. You can also contribute to this by combining your deliveries. You can send up to four sample bottles in one OELCHECK envelope. The delivery box in which you receive your all-inclusive analysis kit can fit up to eight sample bottles. If you would like to send even more samples on the same day, please use your own delivery box.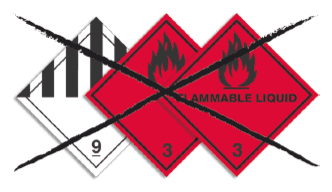 Postal and courier services and delivery companies continually have questions about the content of the deliveries to be sent. The delivery can easily be classified as suspicious, particularly when the content is liquid. and may not be delivered.
Should there be any problems in this regard, please note the following:
Declare oil samples as new or used oils, not waste oils. As waste oils, they may be considered dangerous goods under certain circumstances. Lubricants only become waste oils when they are absolutely no longer suitable for their original intended use. The lubricant or operating fluid samples you usually send come from systems where the liquids can remain in use.


Where applicable, give a flash point of over 200 °C. The limit value, which is a minimum according to the UN dangerous goods classification, is 61 °C. Standard hydraulic, engine and gear oils have a flash point of over 200 °C. Diesel and heating oil, which mostly have flash points of over 65 °C, are not dangerous goods either.


Refer to the "limited quantities" rule. As the lubricant samples are in low quantities of less than 100 ml, these goods are exempt from transport provisions for road and rail. Quantity restrictions in accordance with the ADR/RID (road/rail) and IATA (air) provisions shall only apply for the delivery of samples such as petrol. However, these only define the sample as dangerous at quantities of over one litre.


Please only use the sample bottles that we provided with our all-inclusive analysis kits. The delivery of lubricant samples in bottles which are intended to store food is prohibited in accordance with Section 8, subsection 7 of the German Ordinance on Hazardous Substances.


Although you are not required to include a material safety data sheet due to the high flash point and minimal quantity, you should procure a copy of the material safety data sheet (MSDS) in case of queries. You receive this multi-page document, which also contains instructions on storage and transportation, with the oil delivery from your lubricant manufacturer. This is also often available to download online.


When sending oil samples by air, please note that a delivery can often only be made if the staff member responsible is proven to have completed IATA training.


New and used greases are not deemed dangerous goods in accordance with UN provisions. There are no restrictions or quantity limits for their transport by road or in the air.
In order to avoid customs issues when sending samples from overseas, you should use the following wording in your customs documentation and the pro forma invoice.
Description:
The samples are not subject to taxation under german §1 Energy Tax Act because the content of the lubricant samples
is not intended for heating or as fuel.
The samples of the shipment are low-value goods acc. to the Article 27 of Regulation (EEC) no. 918/83. The total
value does not exceed € 22. (§ 1a EUSTBV)
An informal release for free circulation as consignment with small value according to art. 23 duty exemption regulation
conjunction with § 1a EUSTBV is requested.
Value/Sample: €0.50