Modern and environmentally friendly, multifunctional technologies with an all-inclusive, one-stop service – that's what Hako is all about. Whether it's road sweepers for thorough outdoor cleaning, articulated, multifunctional equipment carriers for all-season use or compact equipment carriers and transporters with three attachment points and up to 300 attachments, Hako municipal cleaning technology offers individual solutions for reliable and cost-effective city cleaning and property, grounds and sports field care through to winter services.
Cleaning solutions marked by environmental efficiency
Hako closely complies with all legal environmental requirements when developing all its products. Furthermore, Hako attaches a great deal of importance to ensuring that products remain efficient throughout their entire life-cycle. This combination means that the machines and their design must be highly energy efficient until they are no longer in use.
Economical diesel engines with exhaust after-treatment systems in line with the most recent legislation facilitate an economical and environmentally friendly operation. Machines fitted with an ECO mode also reduce energy consumption and waste gas emissions without a significant reduction in performance.
Particularly effective gears transfer the performance to the streets with low loss. Intelligent drive controls allow hydrostatically powered machines to save as much fuel as possible when driving. In addition, in order to keep total energy consumption as low as possible during use, all products are fitted with a particularly efficient hydraulics system that meets technical requirements.
Extensive service offer
Hako offers an extensive service offer across all of its high-quality products that is geared towards the customers' needs. This includes computer-supported efficiency calculations and fleet management solutions, as well as financing and purchasing alternatives or ensuring maximum machine availability, for which in Europe alone there are approximately 650 service technicians available around the clock.
This means that customers are protected in all respects by the Hako support services: they guarantee fully calculable maintenance costs, comprehensive machine protection, as well as maximum availability of the used cleaning technology. This means that a Hako maintenance agreement with individual and usage-dependent maintenance fees offers many advantages, for example. Instead of following rigid maintenance plans, equipment is inspected according to a specific maintenance matrix depending on device use.
Maintenance is usually carried out on site by the customers; however, if extensive maintenance work is needed, it is performed in our own specialised workshops.
Oil change intervals extended
Citymasters, a part of Hako's municipal technology range, are hydraulically powered. Depending on the machine type, the filling level is between 50 and 70 litres of ISO-VG 46 hydraulic oil. When choosing the oil, Hako opted for an energy efficient HVLP 46 hydraulic fluid. This is because it protects against wear and tear, can be filtered well and has a high viscosity index and therefore has an ideal viscosity to temperature ratio. This particularly pays off when temperatures fluctuate greatly and in extreme cold. If a Citymaster is working in ecologically sensitive areas, an HEES 46 hydraulic oil is used as it can biodegrade quickly.
Previously, Citymaster oil needed to be changed after 1,000 operating hours.
The high-quality hydraulic oil and modern design used by Hako are, however, considerably more efficient. The perfect oil condition and system purity after 1,000 and 2,000 operating hours can be checked using the hydraulic oil analyses in the OELCHECK laboratory.
These analyses document that everything is in order and that, on this basis, oil change intervals can be extended to 3,000 operating hours. Sparing two oil changes saves resources and the environment, and reduces costs.
Extensive investigations were carried out into used oils in the OELCHECK laboratory before Hako decided to extend the oil service life. The results were analysed by Hako and assessed by experts. On this basis it is clear that extending the oil change intervals does not limit machine availability. However, OELCHECK laboratory investigations are also carried out at 1,000 operating hour intervals.
The OELCHECK system is already well known to the Hako employees. Therefore, Hako does not just use the analyses for hydraulic oils. Diesel engine oils have already been analysed, too. The results provide extensive information on the condition of the engines with regard to dust exposure and fuel quality.
A special Hako analysis set is now used for inspecting hydraulic oils, which contains the ideal scope of investigation for both the standard and bio hydraulic oils. The analysis set allows the oil condition, such as oxidation, additive decomposition and viscosity, wear and impurities, such as, for instance, silicon (dust) and water, to be examined. Furthermore, particles and their sizes are counted and purity classes are determined. Monitoring in this way means that any impurity in the oil during the 3,000 operating hours is discovered.
Samples are taken on site by Hako service technicians. They send the sample bottles directly to the laboratory in Brannenburg. Every vehicle is entered into the large OELCHECK database with its identification number. Over time, this allows for extensive documentation to be compiled for each device. Furthermore, Hako has immediate access to all data via the customer portal www.lab.report.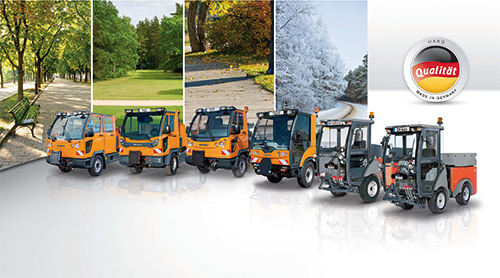 About Hako GmbH:
For a good 65 years the Hako name has been synonymous with quality, reliability, service and innovative solutions. Today, with its registered offi ce in Bad Oldesloe and branches in 15 countries across the world, the Hako Group is amongst the leading machinery manufacturers on the global market for industrial, building and outdoor cleaning, as well as for property care and winter services. The company supplies customers from around the globe with its cleaning machines, multifunctional equipment carriers and transporters.
Scroll To Top