"Who is the most reliable supplier of services in the fluid technology sector?"

This question was recently asked during a large customer survey by one of the most well known manufacturers of hydraulics components. And as expected, most of those asked voted for Hansa-Flex.
Started in 1962 as a supplier of replacement parts for hydraulic hose lines, today Hansa-Flex is Europe's leading supplier of fluid technology systems and a value-adding partner for high-performing companies of all sizes. Over 300,000 customers value the wide range of products and excellent service offered by the German company.
Hardly any commercial operations would work without fluid technology. Without it, many power, signal and energy transmission facilities would not be able to operate. Hansa-Flex knows that the customer's machines, facilities and systems must work safely, reliably, and around the clock. Availability counts, and downtime costs money. Absolute reliability, customer proximity and expert knowledge is critical. The services offered by the company are diverse and complex. Fluid service and monitoring of hydraulic liquids play a special role.
Hydraulic fluids handle a whole range of tasks. They transfer forces, perform control functions, lubricate moving parts, protect against wear and corrosion, provide cooling, dampen vibrations and remove possible contaminants. But the performance of modern hydraulic systems is increasing, and the systems themselves are getting smaller. The increase in operating pressures is made possible not only thanks to optimised pump technology, but also through decreased gap tolerances, better surface finishes and a more fine-tuned valve technology, letting components work even more efficiently and precisely. Lower tank volumes do make modern equipment more compact, but they also increase circulation rates. This means fluids must be regarded with a significantly more critical eye than before.
Hansa-Flex Fluid Service and Sensor Technology
For continuous monitoring of the hydraulic fluids, Hansa-Flex focusses on the latest sensor technology. Special sensors and test devices are an integral part of the product range. These allow the oil level, temperature, pressure and possible exposure to water to be checked. Probably the greatest danger for hydraulic systems is the fluid becoming contaminated. Almost 75 percent of unplanned downtime and wear-related problems are caused by contaminated hydraulic oil. With good reason, Hansa-Flex therefore recommends installing inline particle sensors for continuous monitoring of even difficult to reach measuring points. In addition, a particle counting device allows purity classes according to ISO and SAE to be measured on the spot.
OELCHECK Analyses – the perfect addition
Sensors and quick analysis devices are a sensible way to expand condition monitoring, especially for large systems. Sudden problems are identified quickly, most notably thanks to continuous monitoring of the trend's course. But what should be done if the sensor gives an alarm signal? Is the sensor correctly validated? Were the system and the lubricant in proper working order beforehand? These questions can often not be answered in detail based on a single value from the sensor. This is where the advantages of oil analysis in a laboratory become apparent. A classic laboratory analysis combines a range of single values and evaluates them in all of their complexity. The current results of laboratory analysis in combination with the sensor results allow the best of both worlds to be united as events unfold.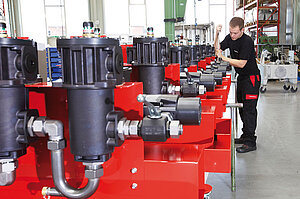 For this reason, Hansa-Flex also uses lubricant analyses from OELCHECK in a targeted manner to check and assess the quality of fresh oils, as well as for clarification of problematic cases. Another important area is that of preventative examinations, which are used to analyse trends in order to create a 'patient file'. This concerns lubricant analyses which are performed at regular intervals and can be used in relation to previous analyses to observe and comment on changes. They do not just indicate when the oil needs changing, but also discover wear and any imminent damage, thereby optimising maintenance costs.
OELCHECK offers various bespoke analysis sets for examining hydraulic fluids. Our analysis set 2 contains a range of tests that are usually sufficient for routine monitoring of small to medium systems. This includes monitoring wear metals, additives, possible contaminants and the current state of the oil. A count of the particles is also given according to ISO 4406 and SAE 4059 which provides information on the degree of contamination. For systems with a large oil volume and for circulating oils, analysis set 5 is the first choice. This set additionally includes a very close look at the aging process of the oil in the OELCHECK laboratory. Special sets are also available for biodegradable and fire resistant fluids.

Hansa-Flex's principle for success is called "system partnership". It is the breadth and depth of the products and services which make the company a valued partner today.
Scroll To Top