The Dutch company is a niche player, and extremely successful at that. Milispec's products and services focus on four areas. These include the military, aviation, oil and gas extraction, and the navy, including large container terminals. With its three divisions – Lubricants, Service and Analytics – Milispec is an important partner for every customer with their individual value chain. Lubricant analyses which OELCHECK performs for Milispec are an indispensable component of the company's Analytics division.
Lubricants and condition monitoring have very specific requirements, particularly for aviation and the military. Milispec has specialised in this field for many years, and rather than "just" providing its customers with lubricants and additives, the Dutch company offers them customised packages which include outstanding consultation services. Milispec hits the bullseye with this business concept.
Unique product portfolio
Milispec is the leading supplier of speciality products, such as lubricants and additives, with approvals from NATO and many others for military applications. The company is a distribution partner for AeroShell and supplies large airlines as well as operators of sports aircraft and helicopters with speciality lubricants and cleaners.
What's more, Milispec is the first distribution partner in Europe to receive AeroShell's "Sales and Operational Excellence Award" for its dedication and high level of expertise. On shore or off, the extraction of crude oil and gas requires the use of extremely hard-wearing and acid-resistant oils and greases. Milispec also supplies the best products for this. A diverse range of test kits, such as for the rapid detection of water or bacteria, complete their product portfolio.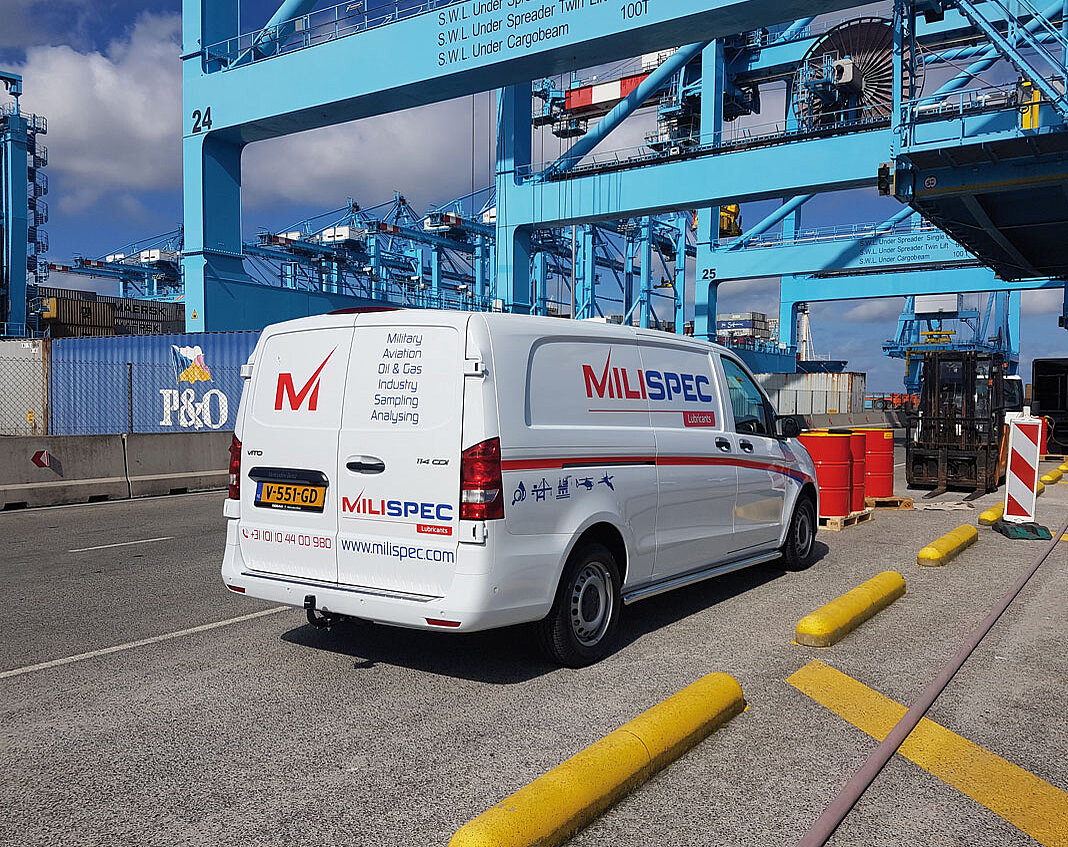 Supply chain management for the world's largest container terminal
Rotterdam – no other port in Europe handles so many goods. And no other container terminal in the world is as large and frequented as the terminal in the port of Rotterdam, APM Maasvlakte II. As the world's most modern container terminal, it is fully automated in everything from automated guided vehicles (AGVs) to quay cranes. All of the energy it utilises is generated by wind turbines.
Milispec experts make a crucial contribution to ensuring that everything runs smoothly in the container terminal. Their work started six months before the first ship moored in Maasvlakte II in 2015. And they had their work cut out for them. Countless engines, gearboxes, bearings, hydraulic systems, ropes and grease lubrication systems were installed at the terminal. The manufacturers of the systems and components had issued a long list of requirements for the lubricants. Based on this list, the port would have needed more than 1,000 different grades of oil and grease for all the moving parts.
This meant that Milispec's first task was to reduce the number of grades. Their second task was lubricant optimisation. Milispec initially selected the lubricant manufacturer with the largest range of products and the most approvals. Then, they reduced the number of gear oils and other lubricants while optimising the selection of lubricants. Some mineral-oil-based lubricants were replaced by synthetic products. Though their price is slightly higher, they achieve longer service lives, are more energy-efficient, and stand up better to low winter temperatures.
Many OEMs had to be consulted in order to avoid risking a warranty loss. Existing contacts with companies such as Künz GmbH, the large Austrian specialist for container cranes, and the multilingualism of Milispec employees proved to be major advantages.
Of course, the extraction of lubricant samples, evaluation of analyses and oil changes are also part of Milispec's customer package. For example, prior to its initial start-up, a zero sample of the gear oil is taken from each gear unit and sent to OELCHECK for analysis. After that, further oil analyses take place at least once a year. In the event of abnormalities, additional samples are analysed.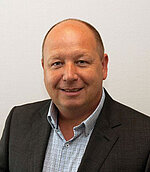 OELCHECK lubricant analyses since 2002
Milispec conducts business internationally and has therefore already worked with several laboratories for lubricant analytics. But no other laboratory offers a more comprehensive service than OELCHECK. According to John van der Hoeven, Managing Director and founder of Milispec,
"OELCHECK is definitely our preferred laboratory for lubricant analytics. Their laboratory reports are clear and concise. With the analytical results and accurate diagnoses of the OELCHECK tribologists, we can make a very good assessment of the condition of used oils. In addition, the data and evaluation provide important leading indicators of possible wear. Illustrations and diagrams clarify a lot. This is very helpful when exchanging information with our customers.
The lab.report customer portal is in a class of its own. We have had several thousand samples analysed from hundreds of machines. With the help of the portal, the machines and samples can be easily managed, and trends are even easier to recognise. The reports are available in several languages. Data can be easily exported and entered into a condition monitoring program.
If we have a question, OELCHECK always has a competent contact person available. And if a lubricant analysis is particularly urgent, we use the express service. If our sample is received in the laboratory by 12 pm, we will receive the lab report by email or via the Internet on the same day.
That's service!"
Milispec – Lubricants, service and analytics!
Milispec International b.v. was founded in 2002 by John van der Hoeven. The company conducts business internationally from its headquarters in the north of Rotterdam. The Milispec team, with its seven employees, is supported by long-standing contractors who perform service work on-site within 24 hours. They are always accompanied by a Milispec supervisor during all of their assignments.
Milispec was one of the first companies to take a holistic approach to serving its customers. Customers of the Dutch company have a single competent contact person for everything from lubricants, to monitoring, to changes, to disposal. Milispec has set the bar high with this service package, which contributes significantly to its customers' value chain.
Scroll To Top