The Prokon group was founded in October 1995. Today it has over 16 years of experience in project planning, funding, implementation and commercial business management and the technical operational management of projects in the area of renewable sources of energy and the sustainable use of natural resources. Over 50,000 investors now have a stake in the company's success with Prokon participation rights. Subscribed capital will soon hit one billion EUROs.
Since 2002, Prokon has been maintaining, servicing and repairing the company's wind turbines. And since 2011, its own employees have been replacing and reconditioning large components, such as gearboxes and generators. In addition, maintenance and servicing operations are carried out for the six in-house substations and their transfer stations and transformer stations. Prokon is able to guarantee reliable operations and maximum efficiency for the wind turbines with the in-house Technical Service. In the long term, this should mean higher earnings for the investors.
The company runs 47 wind farms with 289 wind turbines, of which 38 wind farms and 266 turbines are in six German states with the other nine wind farms and 23 turbines in Poland. From 1995 until spring of 2012, installed output was 479 MW producing a total of approximately five billion kWh. More turbines are either being planned or are currently being constructed.
Once a wind turbine has been brought into service, Prokon takes over the technical operational management. This includes: monitoring of the turbine's condition including data remote monitoring, communication with the turbine manufacturer, inspection and tracking of the turbine manufacturer's work, progress review for routine checks, execution or commissioning of safety-related checks (building cradle, crane, ladder, fire extinguisher, etc.), analysis of error frequency, performance characteristics and technical availability, commissioning or drawing-up of expert reports as well as inspection of expert report processing.
At the end of the guarantee period, the repair work (maintenance and servicing) is also undertaken by Prokon. That's why service points with materials stores have been built in Schleswig-Holstein, Brandenburg, Saxony-Anhalt and Rheinland-Pfalz to ensure fast reaction times and high-tech availability. In total there are 21 service teams available for maintenance and service work including large component replacement and repair work on the wind turbines.
Prokon offers a gear and hydraulic oil change service for wind turbines all across Germany. A special oil change vehicle can deliver up to four different oils by type per application. Therefore the company can also carry out the oil service on its own wind turbines. Oil changes are carried out according to manufacturer specifications or depending on the condition of the oil based on oil analyses.
Multipurpose HVLP 32 hydraulic fluids are used in the wind turbines. By choosing them, Prokon is complying with component manufacturers' specifications and preferred suppliers lists, individual system requirements as well as operating conditions and is placing importance on high quality.
Hydraulic oil fills depend on turbine designs and range from 15 to 315 litres. The hydraulics system, for example, optimises rotor blade performance, tracks the wind, brakes the drive train and even keeps the nacelle in position in the event of crosswinds. Therefore not only are safety aspects fulfilled but also the energy output from the wind and hence the efficiency of a turbine can be controlled. In the event of particularly strong winds, there can sometimes be very high loads applied to the hydraulic oil. Above all, its viscosity must remain stable over a broad temperate application range and when faced with changing pressure loads of over 300 bar.
HVLP hydraulic oils stand out due to a high viscosity index of over 180. Economically priced oils can also reach such a high VI with multipurpose additives. However, these are often not shear-stable. Their VI can drastically fall, for example, from 200 to 120 after just 50 hours of service. In turn, the viscosity falls from approx. 32 mm²/s to less than 25 mm²/s at 40°C which means that the oil becomes far too thin.
The consequences for the hydraulics system can be serious. If the number of internal leaks is too high, for example, the oil can no longer delivery sufficient braking force. Due to adjusting mechanisms that have become inaccurate, the whole turbine ceases to work efficiently. Such lower-quality hydraulic oils are definitely not designed for wind turbines.
Prokon errs on the side of caution and intentionally uses only high-quality HVLP 32 hydraulic oils with multipurpose characteristics, because they:
are very fluid, even at very low temperatures below -25°C
contain shear-stable viscosity index improvers
ensure maximum efficiency at operating temperatures of over 60°C and operating pressures of over 350 bar.
Besides hydraulic oils and gear oils, main bearing lubricating greases are also regularly checked by Prokon and their relubrication intervals are optimised. If the operating parameters are no longer right, a problem which can manifest itself as unusual changes in the lubricants, there can be serious financial consequences. Therefore, since 2000, the company has been using OELCHECK lubricant analyses in order to find out about any damage to the components and changes in the lubricants' characteristics early as part of its monitoring operations. This way, the lubricants can be changed according to the condition that they are in and costs can be reduced.
Monitoring hydraulic fluids is also not the only area where OELCHECK lubricant analyses have repeatedly excelled. Together with vibration measurements, they form an important element of condition monitoring for gearboxes. If there are noticeable signs of wear in the oil test and therefore damage to a gearbox's bearing or gearing, Prokon can immediately carry out a gearbox endoscopy. Over the last few years, thanks to OELCHECK lubricant analyses, a few wear problems have been discovered early. Prokon was able to plan the repair work properly and considerably minimise the financial burden.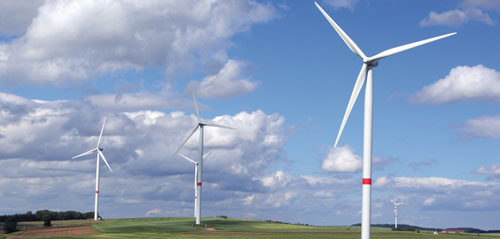 Scroll To Top