The K+S KALI GmbH maintenance engineers for the Hattorf/Wintershall mine use the pithead cage to get down to their enormous underground workshop. Their 'office' is 750 m under the Earth's surface. 125 employees maintain and service the more than 1,000 machines currently in use in the mine. They operate round the clock using a three-shift system
K+S KALI GmbH is one of the world's leading potash mining companies. They specialise in the extraction and preparation of heterogeneous crude salts, particularly those containing magnesium. They are efficient and environmentally aware, and use a unique technology. As a supplier of speciality and standard fertilizers and products for industrial application, the company operates in all areas of life. The crude salts extracted underground, which all originate from the crystallisation of salty seawater, have different compositions depending on the deposits. Potash is mined in the Hattorf/Wintershall (HW) mine. Potassium, chemical symbol "K", denotes, amongst other things, potassium-containing fertilizers for application in agriculture.
The salt cannot be produced by synthetic means. As a fertilizer, it is essential for productive and healthy plant growth. Therefore, potassium fertilizers significantly help contribute to improving food supplies, both from a quantitative and qualitative perspective, for the world's growing population. In addition, diverse precursors for the production of industrial and pharmaceutical products originate from potassium.
In order to extract the valuable raw material in the HW mine, holes up to 7 metres deep are dug in the relatively soft rock using special large-hole drilling carriages. Due to blasting, the rock can loosen into the cavities produced as a result of the relatively thick drills. Large loaders transport the loosened rock to heavy crushers. They reduce the rock in size to fist-size pieces. These are then transported over kilometre-long belt conveyors to the shaft. Above ground, the rock is then further processed into high-quality fertilizers and industrial products.
As with coal mining, an extensive ventilation system ensures a supply of fresh air to the mine. Used air and machine exhaust fumes are diverted via return air tunnels, which cannot be driven down. In the workshop, it is a pleasant 20°C to 28°C all year round. However, the air contains lots of fine salt particles. So corrosion and rust do not occur in the potash mine. The air is very dry and the metals do not corrode without water or moisture. However, things are very different if one of the devices has to go to the surface. Due to condensation, which develops on the relatively warm machine, it is immediately at risk on account of the accrued salt dust. This is one of the reasons why all maintenance and repair work is carried out underground where possible. What's more, relocating the vehicles is extremely time-consuming. They are carried through a transport shaft with a special goods lift. However, the lift can only take 20 tonnes at a time. Therefore, particularly large machines must be disassembled ready for transport beforehand.
The workshop in the HW mine is enormous. The workspace and parking areas extend over an overall length of 480 m with a width of 25 m. The workshop's equipment is also impressive. Supported by a SAP system, the maintenance experts are responsible for servicing the 1,154 machines currently in operation. Whether loaders, large-hole drills, blast-hole drills or forklift trucks, they all need to be inspected in the workshop in accordance with strict specifications and, if necessary, repaired. On average, an assessment is required from the maintenance experts after every 300 hours of operation. OELCHECK lubricant analyses are part of their daily toolkit. The hydraulic oil of the large loaders is tested after every 500 hours of operation.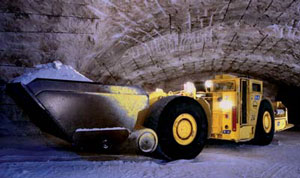 Underground, only latest-generation, large-capacity loaders are used. Their hydraulic system works with approx. 700 litres of HLP hydraulic oil. The oil is changed depending on its condition and only then if the OELCHECK laboratory deems it necessary. As part of analysis kit 2, designed for oils from mobile hydraulics, wear metals (Fe, Cr, Cu, Pb, Al, Ni, Sn), additives (Ca, P, Zn, S) and any salt-containing impurities (K, Mg, Na) are identified. Particles are counted in seven size categories in accordance with ISO 4406 and SAE 4059. The general condition of the oil is diagnosed in terms of its viscosity at 40°C und 100°C, the viscosity index, IR oxidation, additive decomposition and appearance. The experienced tribologists not only offer advice on oil change extensions but also suggest measures for improved servicing.
As well as for guidance on condition-dependant oil changes, OELCHECK analyses are also used if the cause of damage to a device needs to be ascertained. Oil analytics have also proved invaluable in precautionary screening tests of the gears in the axles of all underground machines. Although the hypoid gear oil should still usually have wear protection reserves after a service life of 600 operating hours, it had already reached its limit in some cases. An immediate oil change, which was diagnosed for some gears, may have prevented more expensive damage. The maintenance engineers in the underground workshop have acquired invaluable knowledge about the work that they do thanks to the screening tests and OELCHECK lubricant analyses have once again proven their worth.
Scroll To Top