Dr. Thomas Fischer is the Scientific Director of OELCHECK GmbH and has been with the company since 2004. With his team, he is responsible for monitoring our laboratory equipment and developing new analytical methods. The OELCHECK laboratory has been accredited with the essential test methods according to DIN EN ISO/IEC 17025:2005 since 2009. In addition, strict corporate standards are used that exceed even ASTM and DIN specifications.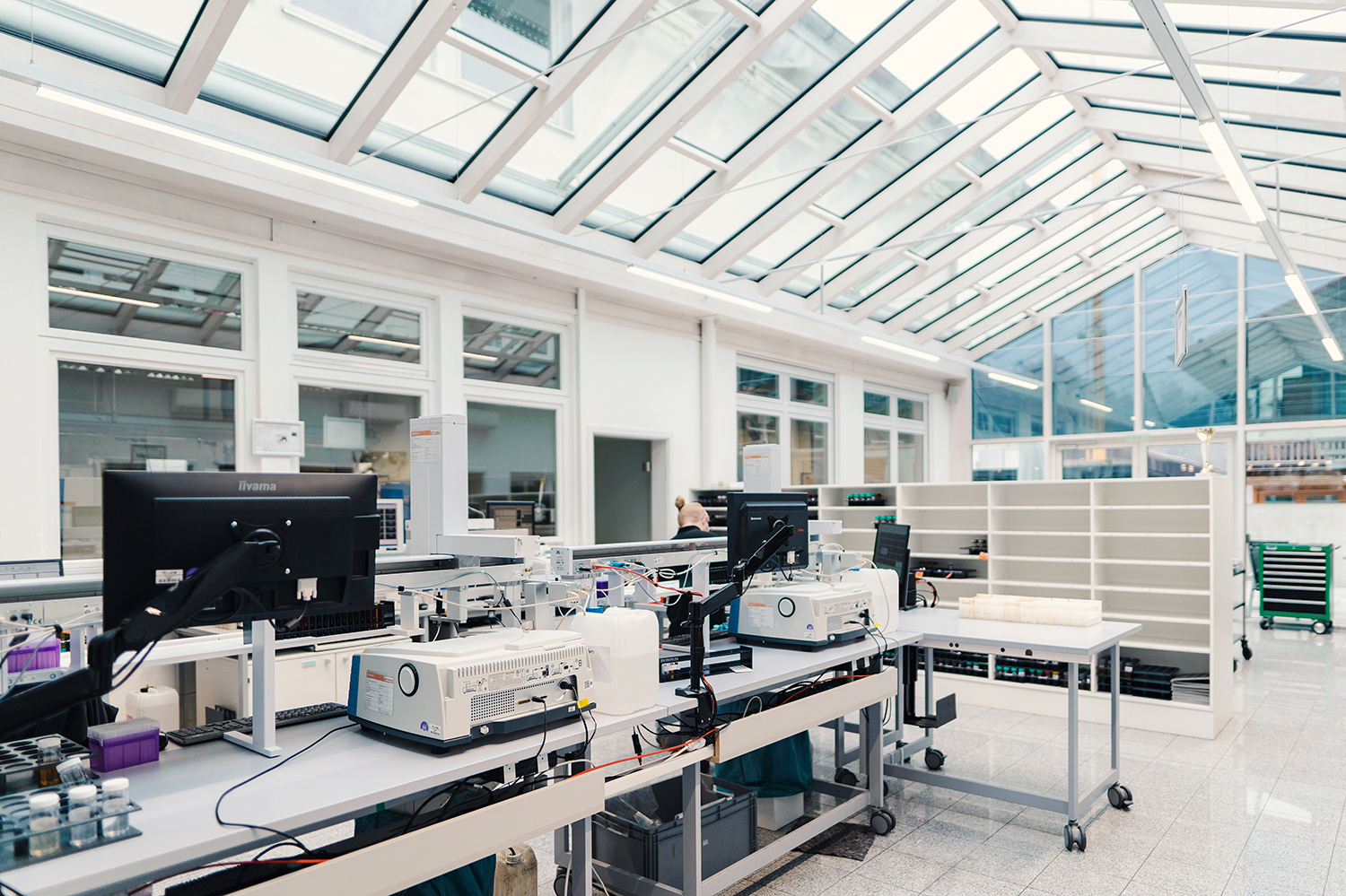 The OELCHECK laboratory covers 2,350 m². More than 130 test devices are currently in use every day. Among them are: 6 infrared spectrometers | 5 ICP spectrometers | 5 gas chromatographs | 7 particle counters | 20 viscometers with constant temperature baths for determining the viscosity at 40 and 100 °C | 22 titrators for determining acid and base numbers.
MORE THAN 130 TEST DEVICES AND OVER 100 TEST METHODS
Reliable and fast – that's what OELCHECK customers appreciate about our analysis service. To ensure that the high expectations are always met and the constantly increasing number of samples can also be managed in the future, we continue to invest in the equipment of our laboratory. Every year, about ten new devices are added.
In order to measure up to 2,000 samples per day, most of our devices are equipped with autosamplers. These ensure maximum safety and automatically stop the analysis if the values determined are outside the narrow tolerance limits. They facilitate the work of the OELCHECK laboratory staff and significantly accelerate the analysis process.
OUR EXPERTISE IS APPRECIATED INTERNATIONALLY
OELCHECK is involved in national and international research projects and in standardization circles. Whether it's oil sensors, new test methods or the reprocessing of used lubricants, OELCHECK's expertise is valued. OELCHECK was, for example, responsible for the publication of the standards for the BN/ base number (DIN 516391) and the ipH value (ASTM D7946) in 2014. In the ASTM D02 Committee on Petroleum Products, Liquid Fuels, and Lubricants, we contribute to the evaluation of lubricants in service. And as chairman for titration methods we participate in the committee of DIN EN ISO AA 663, the analysis of used oils.