Austrian firm Künz GmbH has decades of experience in crane construction, which it uses to provide its exacting clients throughout the world with technically and qualitatively first-class products. Whether crane systems for handling containers or rails, electrolysis cranes for zinc, copper, and nickel production or hydraulic steel equipment for constructing and renovating hydroelectric power plants, Künz has the perfect solution for every sector. Following purchase, Künz customers receive an individually tailored maintenance package. The Künz Information System (KIS) is designed for predictive maintenance. This not only enables maintenance work to be carried out efficiently in advance, but also provides important operating information to keep machinery running smoothly. OELCHECK lubricant analyses are an indispensable component of this.
At Künz, technology and innovation are systemically aimed at creating benefit for the customer. In-house design, electrical engineering, automation, and production enable rapid and focused development. Dialogue with customers is a top priority in this process. Customer service accompanies every single phase of each project – from conception and design, to maintenance and ongoing support.
Künz offers products and services which fully satisfy the latest market requirements, as well as the specific demands of its customers. Decisive criteria in choosing a Künz system include reliability, service, operating costs, component service life, and maintenance outlay. Automation and digitalisation are also playing an increasingly significant role in these decisions. The already well-established Künz Crane Management System gathers data which provide the crane operator with current operational information about the system, together with any error reports or maintenance notifications. Since 2000, Künz has been supplying automated stacking cranes. These operate in large container terminals, for example, such as those found at the ports of Rotterdam and Hamburg. Here the containers are relocated automatically within zones which are off limits to employees. Automation of these systems is a far greater challenge when personnel need to be able to operate in direct proximity to them. This is the case in railway cargo terminals, for example. Here, intermodal cranes are used to transfer containers from railway freight wagons onto lorries, and vice versa. Here too Künz has developed an automated solution, and now produces intermodal cranes without operator cabins.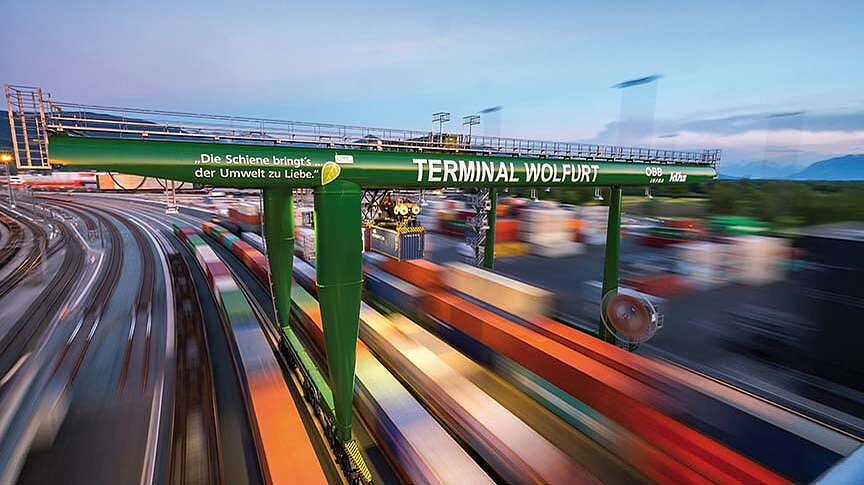 Recognising problems before they arise
The economic success of the operators ultimately depends on the reliability, performance, and service life of these systems. Whether container cranes at ports or in railway cargo stations, or electrolysis cranes for zinc, copper, and nickel production, all need to operate around the clock without interruption. Künz customers receive an individually tailored maintenance package that extends from an annual technical inspection all the way to a life cycle cost agreement. The Künz Information System (KIS) uses predictive maintenance to identify problems before they arise, thereby supporting continuous operation. Many issues can be solved via remote maintenance, saving the customer time, trouble, and most importantly, costs. Künz technicians can also be reached via a hotline around the clock. VPN access enables them to interface with the crane, identify the issue, and propose the ideal solution. This remote access makes it possible to rapidly resume operations.
OELCHECK lubricant analyses – the reliable companion
OELCHECK lubricant analyses play an essential role in predictive crane maintenance. These are most important in monitoring crane gear units and the oils used in them. During every larger-scale inspection or in the case of any anomalies, Künz technicians take an oil sample. In the OELCHECK lab, approximately 30 values are then identified, which are examined to determine oil condition, wear, and any contaminants present, in addition to additive degradation. The resulting laboratory report provides Künz technicians either with a green light to continue using the oil charge, or with the appropriate information in the event that irregular values are identified. The performance of the gear unit is responsible for the reliable functioning of the entire crane system, which makes rapid transmission of the lab value data especially important.
It's all online with LAB.REPORT
Künz technicians use the www.lab.report online customer portal, which they value for its rapid data transfer capabilities among other benefits. This enables them to submit samples at any time worldwide, manage data and their own projects, and handle translation into other languages. Filter functions allow all data to be presented in a targeted manner and compared. As "master users", LAB.REPORT also allows them to more rapidly assess the development of individual gear units and other components.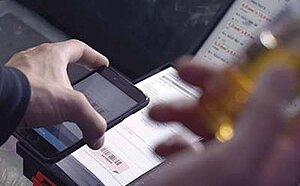 App and QR-Codes perfectly combined
The online customer portal can be used to generate QR-Codes. These can be printed on adhesive strips – which OELCHECK is glad to provide to customers upon request – and then attached to the relevant systems. When submitting new oil samples, technicians can then use their smartphones to scan the QR-Code. The App automatically recognises the system and components and performs all of the subsequent steps. The technician adds information on the service life of the sample in question and scans the barcode of the Sample Information Form, which is identical to the lab number attached by the technician to the sample bottle. The App then transmits the data to OELCHECK. These QR-Codes are now fitted to all Künz crane system gear units at the Port of Rotterdam's APM Maasvlakte II container terminal, which is the world's most modern and is fully automated. 900 QR-Codes are used for the gear units alone. This saves Künz technicians a great deal of time and effort.
Künz – a market leader from Austria
Founded in 1932, Künz GmbH counts among the oldest firms in Vorarlberg's engineering industry. Künz is the leading producer of rail-mounted container cranes in Europe and North America, and the world's foremost manufacturer of automated electrolysis cranes. Künz is also a specialist producer of hydraulic steel equipment for hydropower stations and rack cleaning systems. The Austrian firm is 100% family-owned and operates throughout the world. It places a consistent emphasis on the highest quality products and services, and on the highest level of engineering performance. Of a total staff of 500 employees, Künz engineers account for over 25%.
Scroll To Top