In the market for more than 60 years, Lödige Aufzugstechnik GmbH has concluded thousands of projects and gained countless satisfied customers. Whether it's lifts, escalators and travelators, lifting platforms, rolling doors or façade access equipment, the experts of Lödige Aufzüge service, repair and modernise the products of every manufacturer throughout Germany. For existing objects, the company offers full modernisation or the refurbishment of individual assemblies. And evidently, Lödige also builds new lifts, matching lift solutions perfectly to the use of the building in question. The hydraulically operated installations can carry up to 30 tons and service up to 40 stops.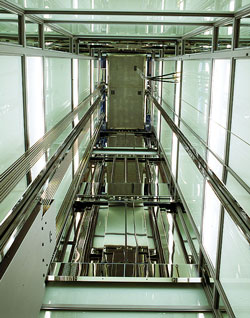 Whether it's for the housing industry, health care, commerce or for public use, the list of references is an impressive one, with well-known names such as: BMW, Bosch, IKEA, Möbel XXXL-Lutz, Siemens, Metro, FAAG Frankfurt, Marseille clinics, Rewe, Miele, Deutsche Post or the Bundesrat [Federal Assembly].
But wherever and whatever facilities are built by Lödige, its technicians know that no two lifts or escalators are alike! That's why it is particularly important for its service technicians to know "their" facilities and customers. The Paderborn-based company thus has 8 branches nationwide so that it can act swiftly and on an individual basis.
Every operator of a facility subject to monitoring is obliged, within the framework of the Ordinance on Industrial Safety and Health (BetrSichV), to operate lifts and escalators with the latest technology, to maintain and preserve them in regular fashion, to monitor them and to ensure that qualified staff carry out necessary repair work. The maintenance intervals are not clearly specified by the law. They should nevertheless follow the frequency of use of the lift. Operators who want to play safe use Lödige's maintenance package. The full maintenance TC is an all-round carefree package and includes: reliable cost planning, delivery and installation of all parts subject to wear, remedying of operational faults, support for legal inspections, long-term availability of spare parts, regular inspection of all functions and evidently, a round-the-clock emergency service.
Maintenance operations are carried out at regular intervals 4 to 6 times per year, depending on the size of the installation. In addition, installations are examined every year by the employees of a testing body, such as DEKRA or TÜV. A Lödige service technician attends the main two-yearly inspection.
The company ensures safety through qualified maintenance at the highest level. A set component of this is the complete oil service, in which lubricant analyses by OELCHECK provide important information. A lift requires around 300 litres of hydraulic oil, larger installations significantly more. As a rule, Lödige deploys HVLPD 46-type multi-grade hydraulic oils. These oils, with a viscosity that changes little with temperature, are highly suitable for lift hydraulics which work intermittently or under moist operating conditions. Like engine oils, they have detergent and dispersing characteristics and can thus neutralise small quantities of condensate. More and more frequently, more rapidly biodegradable hydraulic oils based on synthetic esters are used, consisting of inherently shear-resistant multi-grade oils. Through the polar characteristics typical of esters, the oil molecules adhere better to the hydraulic cylinders and thus ensure more uniform operation of the lift.
The usage time of a hydraulic oil in a lift until an oil change is usually 7 years. In any case, a sample is withdrawn from the tank after 5 years at the latest. This oil should be warm from operation and the lift should be operated several times beforehand, so that a genuine reference sample is also submitted. The mineral oil-based hydraulic oils of HVLPD 46 type are analysed by Lödige according to the scope of analysis of Set 2, and synthetic fluids of type HEES 46 according to Set 3 (Bio). The result of the oil analysis represents the deciding criterion as to whether and when the hydraulic fluid must be changed. A change not only incurs the cost for fresh oil. In addition to the 300 litres for filling, an additional 150 litres are required for the necessary rinsing process. Several hundred litres of oil must thus be drawn into the hydraulic area and removed from it for disposal.
But Lödige not only counts on OELCHECK lubricant analyses to define oil change intervals in routine inspections. Above all, in older systems, solid or sticky particles can threaten the hydraulics system, and eventually impede the pistons in the control block. The pistons remain suspended or stuck and there is no longer any movement. As a rule, the service technicians can avoid such failures through timely warning indications from the oil.
The importance of on the ground speed is shown by a current example from last summer. After violent weather, the cellar of a company building was flooded to a depth of several centimetres. This also affected the lift shaft, with it suspected that water had also penetrated the hydraulic fluid. The Lödige service technician was on the spot right away to take an oil sample. On the very next day, OELCHECK was able to confirm the suspicion. In order to avoid corrosion and more extensive damage to the hydraulic system, an immediate oil change was carried out. In next to no time, the lift was again operating reliably with mobility ensured.
Scroll To Top