Konecranes is among the world's leading manufacturers of hoists and cranes. The "Equipment" division develops and produces industrial and heavy-duty cranes, power plant cranes, port technology and heavy-duty forklift trucks.
Customers include companies in the production, energy and process industries, shipyards, ports and freight terminals. With the aim of "Lifting Businesses™", Konecranes is committed to lifting loads – and to raising the productivity of its customers.
Konecranes was one of the first companies to actively focus on the area of preventive maintenance and to develop modern, innovative service products and diagnostics. In the service division, the company offers services for hoists, cranes and machine tools for all manufacturers. Intelligent machines working hand in hand with intelligent services is already a reality at Konecranes. Strongly service-oriented, the company is represented across 26 locations in Germany alone. More than 250 qualified service engineers are on hand every day with their perfectly equipped service vehicles to be deployed to customers. The specialists carry out inspections, preventive maintenance and repairs. On board the service vehicles are the practical analysis sets from OELCHECK. Oil analyses are an important part of the maintenance concept for all gears in hoists and crane systems of various types.
Gears made by Konecranes
The production of crane systems has a high production depth. In addition to the often gigantic welded structures, Konecranes also produces all gears, including gear parts. In a gantry crane, for example, there are at least three, usually six hoist, winch and crane trolley gears. Gears with an output power of up to 580 kW and an output torque of up to 380,000 Nm are used here. Gears are treated with mineral-oil-based CLP industrial gear oils in viscosity groups 100, 150 or 220, depending on the type of gears.
The oil volume is between 8 and 320 l. Notwithstanding the oil analyses, the oil is changed at intervals of two or five years depending on the type of gears, the engine group, and the specific system.
Oil analyses for even greater safety
Konecranes uses the OELCHECK gear oil analyses mainly to detect damage at an early stage. Early detection of any damage to the gears, especially in hoist gears, is a key factor when it comes to increasing operational safety. In the worst-case scenario, unplanned and costly production downtime is also avoided.
The lubricant analyses are used in preventive maintenance and CRS (Crane Reliability Survey) inspections to assess the condition of crane systems as part of the assessment of the remaining lifetime. They are an integral part of the "Care" and "Commitment" service programmes. They are also offered by Konecranes as part of all other service programmes and for gear overhauls as a separate product.
The gear oils are checked at least once a year depending on the utilisation of the hoists and crane systems. OELCHECK examines the condition of the lubricants, checking meticulously for signs of possible wear on gearwheels, roller bearings and seals. Checks are also made for contaminants from water from high-pressure cleaners, or dust that can get in via ventilation filters. An elemental analysis using ICP provides information on the possible content of wear metals and contaminants, as well as the condition of the oil additives. The PQ index includes all magnetisable wear particles, regardless of their size. Additive decomposition and oil oxidation are determined by FT-IR spectroscopy.
Planning and inspection with intelligent service system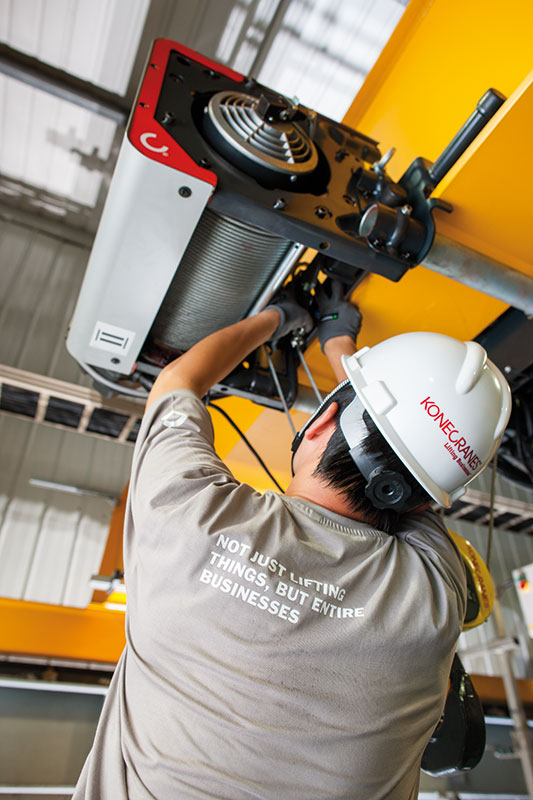 Konecranes combines intelligent machines with intelligent services. An important element of this is MAINMAN 4, the unique ERP (Enterprise Resource Planning) system from Konecranes. With MAINMAN 4, customers benefit from the following maintenance and inspection features:
Paperless service for sending inspection reports
Integrated business and safety reviews
YourKonecranes.com: a web portal with real-time access to all systems data and services performed
Modern, comprehensive safety reports in which relevant causes of problems and risks are highlighted.
All laboratory reports by OELCHECK are integrated into the ERP system and archived with a commentary under the respective component. The intelligent system not only offers detailed insights into the condition of the machinery, it also allows routine maintenance work such as adjustments and lubrication. It is an holistic system offering a range of services unparalleled in the crane industry.
Konecranes – a global market leader in Lifting Businesses™
The history of Konecranes dates back to 1910, the year the electric motor repair shop KONE was founded in Finland. Konecranes was founded as an independent company in 1994 when it separated from the company KONE. Today Konecranes is a global market leader in Lifting Businesses™. The group employs around 12,000 people at 600 sites in almost 50 countries.
Scroll To Top